GERMAN engineering
Developed and designed in Germany.
Payload = 1 kg
e.g. Sony QX1. Sony A6100 or Parrot Sequoia.
45-60min flight time
300 hectares per hour. The Blackbird flies its double grid missions fully automatically.
QUALITY FRAME
High quality EPO foam provides a sturdy yet lightweight construction.
MODULAR DESIGN
Improvements that COOPER COPTER develops are made available as after sales upgrades. We thus support a long, productive life cycle that always meets the latest technological standards.
RTF + training days included
The BLACKBIRD comes ready-to-fly and with comprehensive training.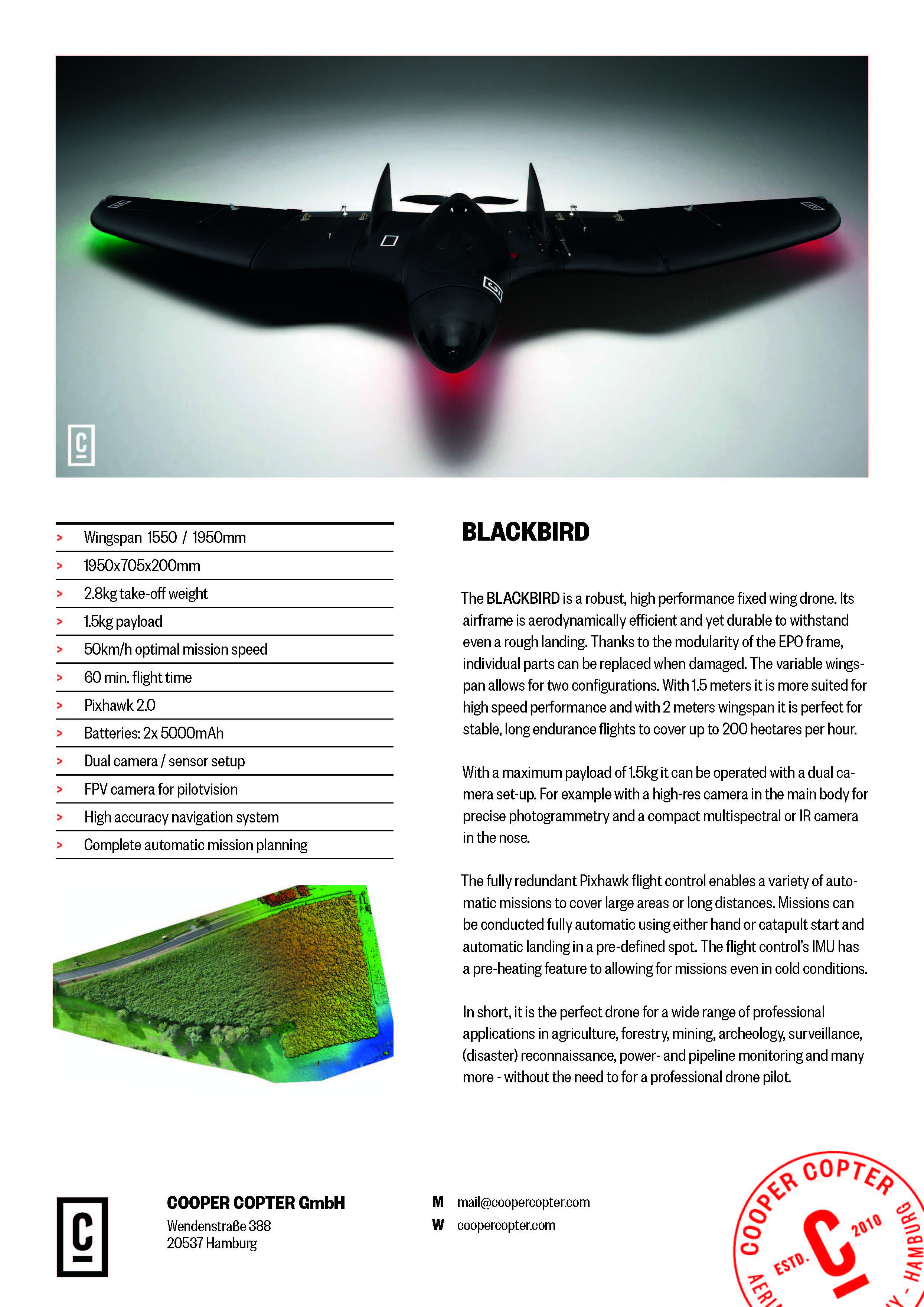 The BLACKBIRD is a powerful, fast, reliable and efficient workhorse for a range of applications.
The BLACKBIRD is a robust, high performance fixed wing drone. Its airframe is aerodynamically efficient and yet durable to withstand even a rough landing. Thanks to the modularity of the EPO frame, individual parts can be replaced when damaged. The variable wings- pan allows for two configurations. With 1.5 meters it is more suited for high speed performance and with 2 meters wingspan it is perfect for stable, long endurance flights to cover up to 200 hectares per hour.
With a maximum payload of 1.5kg it can be operated with a dual camera set-up. For example with a high-res camera in the main body for precise photogrammetry and a compact multispectral or IR camera in the nose.
In short, it is the perfect drone for a wide range of professional applications in agriculture, forestry, mining, archeology, surveillance, (disaster) reconnaissance, power- and pipeline monitoring and many more – without the need to for a professional drone pilot.

COOPER COPTER GmbH
Wendenstrasse 388
Hamburg, Germany
+49 40 25418633