STYLE MEETS AERIAL PHOTOGRAPHY
GERMAN engineering
Developed and designed in Germany.
Payload = 6,5 kg
7.7kg min. take off weight
14.2 kg max. take off weight
e.g. laser scanner, radar and other sensors.
15-20min flight time
With camera equipment such as the SONY A7 and a gimbal, the CC 14 achieves a flight time of 15-20 minutes.
ALUMINIUM FRAME
Its aluminum frame is extremely resistant to bending and can be easily reconfigured and repaired, unlike carbon fiber frames.
MODULAR DESIGN
Verbesserungen die COOPER COPTER entwickelt, werden als After Sales Upgrades zur Verfügung gestellt. Wir unterstützen so einen langen, produktiven Lebenszyklus, der stets den neuesten technologischen Standards entspricht.
RTF + training days included
The AEROCHROME 14 comes ready-to-fly and with comprehensive training.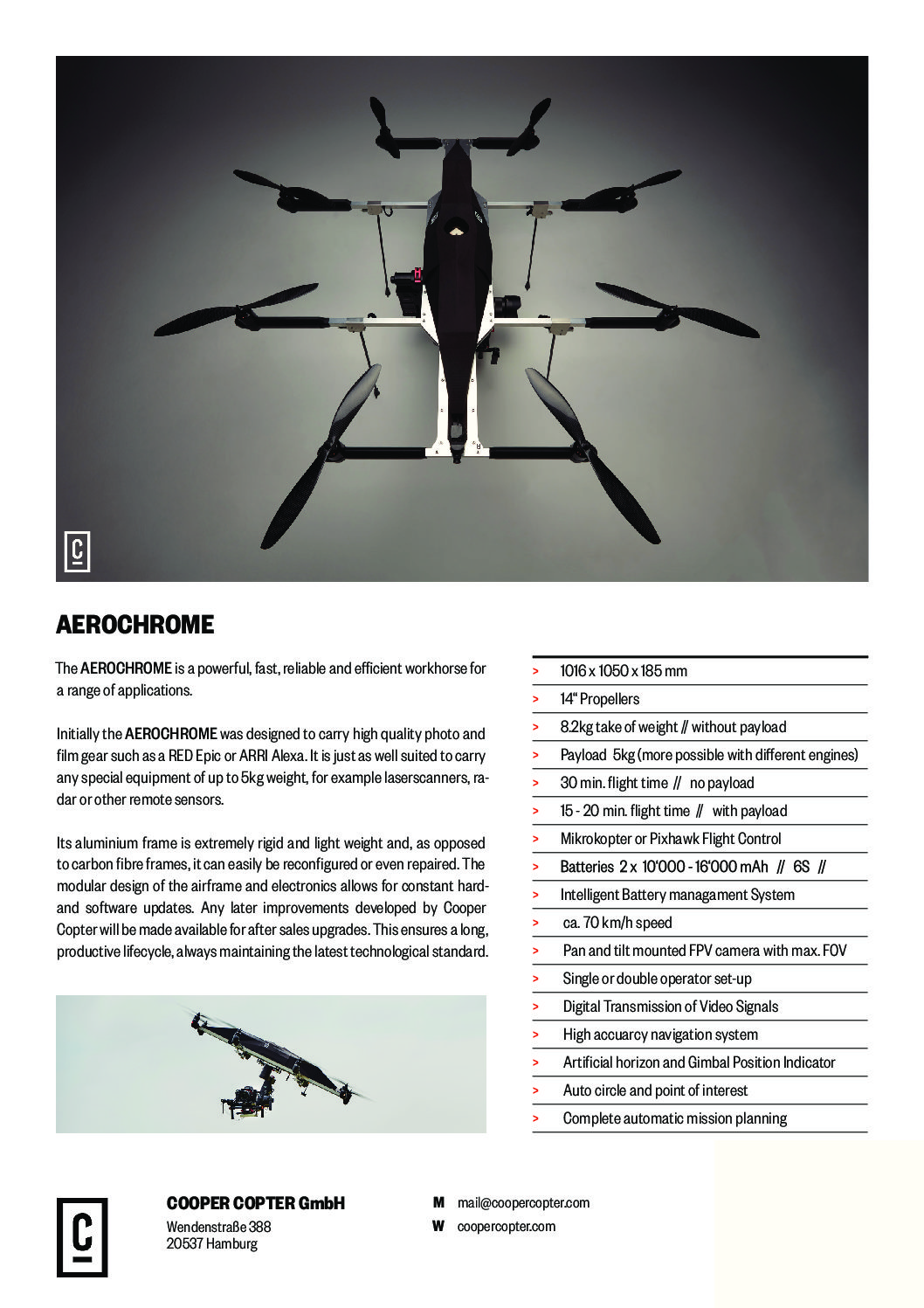 The AEROCHROME is a powerful, fast, reliable and efficient workhorse for a range of applications.
Initially the AEROCHROME was designed to carry high quality photo and film gear such as a RED Epic or ARRI Alexa. It is just as well suited to carry any special equipment of up to 5kg weight, for example laserscanners, radar or other remote sensors.
Its aluminium frame is extremely rigid and light weight and, as opposed to carbon fibre frames, it can easily be reconfigured or even repaired. The modular design of the airframe and electronics allows for constant hard- and software updates. Any later improvements developed by Cooper Copter will be made available for after sales upgrades. This ensures a long, productive lifecycle, always maintaining the latest technological standard.

COOPER COPTER GmbH
Wendenstrasse 388
Hamburg, Germany
+49 40 25418633